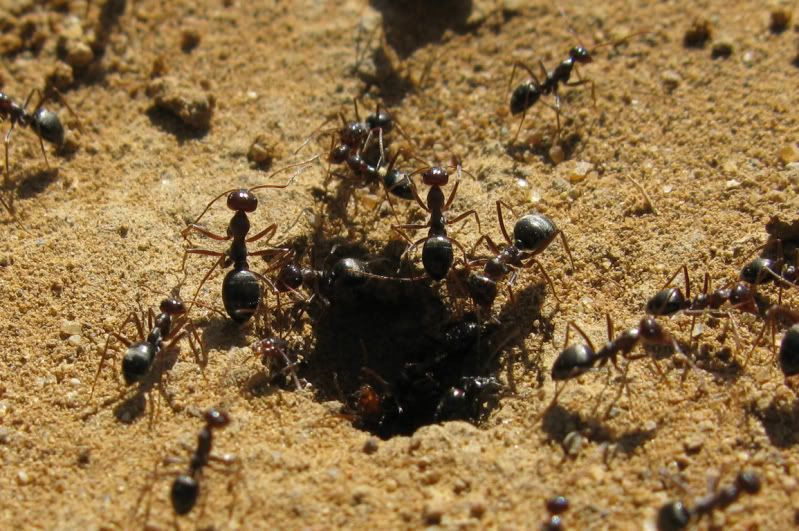 Hey gang, been a long time since I've posted here but I always appreciate the knowledge base I can count on at times of urgency or need. Though this isn't a case of urgency I would love if any of you could help me find any information about Myrmecocystus mimicus. This species happens to be one of the few if not the only diurnal honeypot ant that reaches this far north in California, I have been trying to locate nantitic colonies of this species along with single queens during or around mating flights in spring but have had no luck in almost 3 years of observation in my frequented hiking areas.
This species tends to have far less overlapping populations due to their very extreme territorial battles which exterminate rival budding colonies within several meters from a mature one. When observed in the wild, I have found that mature colonies are almost exactly the same distance away from one another, probably 30 yards. Anything in between these distances is wiped out which makes it difficult to find newly established colonies each spring. During the spring, between March 10th to May 1st I have witnessed mating flights in broad daylight hours between 9 a.m. and 2 p.m. This season was no different and I hiked for over 5 hours hoping to catch a wandering queen from those very flights but I had no such luck. To make matters even more complicated, Myrmecocystus testacius also flies during this time and digs their nuptual chambers in much the same way that M. mimicus does. Further more not only is all this activity happening but M. testacius has huge populations in the area I have been observing and every time I identify and dig up a new chamber it's an M. testacius queen. Also worth noting is that M. mimicus loves to dig into very hard soil and the mature colonies that i do find live directly into beds of sand rock and tightly packed soil, for one exception....off the beaten paths of my hikes I found one M. mimicus colony in very loose sand under a Manzanita bush. Usually honeypot colonies tend to be in the open where they can get warm sunlight during the day but this colony was different. It led me to believe that M. mimicus could have colonies anywhere in the surrounding forest or underbrush and I would be hard pressed to find them. Most if not all the colonies I have found so far are on the trails, in the open where you can see them clearly. I think I will concentrate my efforts on this area rather than randomly searching tall grass and forest for random colonies.
Any and all information about this species is welcome, I'm calling on all my California ant enthusiasts to add some information if you have witnessed this ant in your hikes or adventures. Any and all information would be beneficial, thank you.
On a side note, I have also seen this species along highway 5 further south. I took a trip to L.A. a couple years back and would see M. mimicus anytime i would pull over at a rest stop or pull over at a fresh fruit stand, they would be on the dirt embankment near the roads, along the edges of crops or orchards. Maybe this might shine some light on their distribution, using highway 5 as an indicator.