We went to Fairmont. BC in the middle of August and I took some photos.
The temperature averaged 28 Celcius.  At the hottest part of the day, all of the ants were inactive.  They were most active between 4-8pm.  I took many of my photos in the early morning hours when everything was chilled and slow.  At 8am it was 14 degrees Celcius.
Interestingly I almost never found colonies underneath wood unless it was a large piece I could barely move.  The few logs I opened up only had beetles in them.  Beautiful red wood, but not a single ant though.  I found most of the colonies under neath rocks that were at least 5"x5".  (The beetle was IDed as a Darkling beetle)
Myrmica are everywhere.  Definitely a dominant species here.  On the watered resort they accounted for about 70% of the colonies I found, off of the resort they account for about 90% of the colonies I found.  I saw at least 8 different species that I could differentiate.  (Correction: thse have been identified as Aphaenogaster occidentalis)
It is a fairly alpine location, mostly rocks and coniferous trees.
I took a hike to the top of the bluff overlooking the resort.  As you can see, not many places for ants to hide.  The higher I went, the fewer colonies I found.
It went from fairly forested to locations where the rock floor showed through.
The soil is quite thin here.  Often just a few inches.  I have no idea how these trees remain standing for so long.
There was a flight of these ladies.  Only about 4mm long.  (IDed as Brachymyrmex depilis)
Had a gaster-less Formica queen come out of the sky and land on me.  (Correction: it is actually a Lasius pallitarsis)
I found some super-shiney formica.  Perhaps some sort of Formica neogagates?
Came across a Lasius queen who had just dug a founding chamber under a rock.
I am pretty certain that the vast majority of queens die in the first few days due to the spiders and simply how dry the ground is (they dehydrate).  You don't see queens wandering around for more than 2-5 hours after a flight and finding any queens more than 2 days after the flight is next to impossible.  The ground in most spots are dust dry and rain this time of year is scarce.
Found some milipeds.
In some places as you walk it sounds hollow, then you come across a spot where underground springs eroded rock to leave caves.  You don't feel so safe walking when you see a sight like this hole plunging about 4 feet down to a different layer.
I found one Camponotus species here.  I believe it is either Camponotus novaboracensis or Camponotus vicinus.  Both are found in Alberta and BC and they are our only two Campontous with solid red thoraxes.  I found one major who was 16mm long.  Some colonies already had alates in them, getting ready for next spring.  (IDed as Camponotus vicinus)
I saw this lady running around.  I could not locate her nest despite trying for quite some time.  I kind of think she is some type of Camponotus, but I honestly have no idea.
Spent two hours climbing to the top of the bluff only to find that the snails have beat me.  I have no idea where all of these shells have come from, there are dozens of empty shells under the rocks up here.
On an interesting side note, almost every ant colony I found had a resident spider nearby, usually under the same rock.  (IDed as a wolf spider)
I saw lots of these holes once I got further up the bluff.  Are antlions native to the Rocky mountains in BC and Alberta?
Of course, I didn't just look at ants.  A creek runs through the Fairmont resort.
I found a native perennial vine that flowers.  Flowering native perennial vines aren't exactly common up here.  Turns out to be wild Wisteria.  I have some seeds and will try adding them to our flowerbed.  (Correction, it is a wild Clematis, not sure what I was thinking of when I typed wisteria)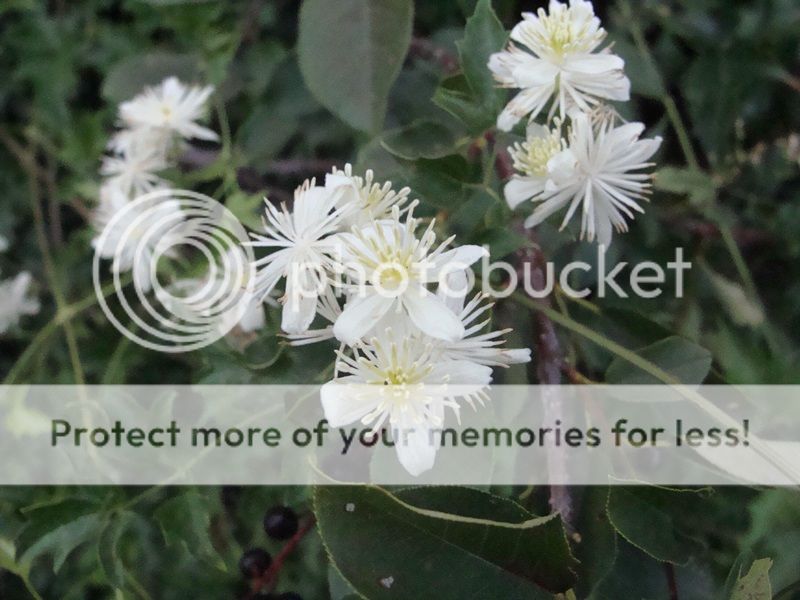 I found a thistle like plant that was over 5' tall and had beautiful blue flowers.  I gathered some seeds, but have been unable to identify this plant.  (IDed as wild chickory)
The dragonflies were trying to control the mosquito population, but bug spray was still needed.
I saw what I thought was an ant, and after I picked it up I am pretty sure it is a wasp or something.  Definitely not an ant.  (IDed as an ant mimic, broad-headed bug (Alydidae))
Every year we come these cracks in the ground get wider and deeper, with more appearing every year.  I am beginning to wonder if the basement rock on this "hill" is trying to shift or break away.  The hot springs keep moving uphill in a straight line to wards these cracks and the cracks keep appearing in a more or less straight line for over a kilometer.  The "cracks" are about 5-10" wide and several feet deep at least. 
Next year we will probably come in June.  I am kind of hoping to catch one of those Camponotus queens.