I've been meaning to start this journal for a long time, but just never have gotten around to it. I've been asked recently about how to keep
Ponera pennsylvanica
and I realized I really don't know that much about them. I figured if I was going to start a topic to ask a few questions about them, why not get this journal started.
I'll start with my questions first since they are what finally motivated me to start this journal. Do they have gamergates (those workers that can mate and produce eggs) like some other Ponerine? Are their queens fully claustral or do they need to forage? They have traditional flights in the fall, right?
This is my first try at keeping a
P. penn.
colony. I collected them as a mature colony earlier this spring from under a rock in my suburban backyard (
my ID topic
has more details if you are interested). I had originally collected the colony because their home was out on its way out of my yard. I figured I would try to find them a new home in my yard since I don't see them all the time. I generally don't have any interest in small ants, but I found these girls are very cool little ants. Long story short they grew on me and I've been able to find things for them to eat, so I've kept them.
I've found they need high humidity in their nest, but not in their foraging area. When I collected this colony it had at best one or two small eggs or larvae. They currently have around 10 pupae and decent brood pile. A few nights ago they had their first worker eclose since I've had them. They had 47 workers when I collected the colony. The worker count is around 43 right now. I think most of the worker deaths they have experienced came from drowning. They have a habit of tunneling into the cotton ball I use to give them water in their foraging area. Once I realized what they were doing I've been a lot more careful when re-wetting their cotton ball in the foraging area.
I've also noticed they are happy to forage above ground. They seem to keep a fair number of foragers out compared to my other colonies. They have anywhere from 10%-20% of the colony on foraging duty. They do not seem to be lone foragers any more than the species I have. They do seem a little slower then my other colonies about recruiting help to collect big food sources. In the end it is definitely a group effort to drag their food home, some times with 90% of the colony's workers involved in dragging the food home.
Their food is really the tricky part once you know they need their nest on the humid side. They are not generalist feeders and I have not been able to get my colony to take just any old bug even when crushed up. They also will not touch the sweets. You heard me right this species of ant has absolutely no desire for sweets of any kind. They are strictly predacious.
So what do these little carnivores eat in the wild you ask? The best I can gather they eat mainly spring tails (tiny little bugs that can jump really high) and other tiny soft-bodied invertebrates. I've found this colony will accept, silverfish, fruit flies, termites, baby (pin-head) crickets and some species of spiders. I think they would be very likely to accept those nice big fat juicy beetle grubs you can find under things some times, but I've not seen any this year to give them. They will not eat tent worms, pill bugs, mosquitoes, adult crickets, and some species of spiders. I've found live food is not required and they readily accept their food frozen.
In my quest to find out what they will eat I've noticed that they only sting live prey. They look very wasp like while delivering their stings. I think it is worth the risk to feed them the occasionally bit of live prey just to see them in action. While I'm thinking about cool things they do there is another unique behavior they exhibit that I thought was very interesting. If they are in a foreign place or are extremely disturbed they will flop around almost like a fish out of water. It's crazy to watch and I wish my video camera could catch it on tape. They rarely do it now that they are comfortable in their new home. Before they settled into their new home they did it at even the slightest vibration. It's sad that all the pictures of taken of these gals just don't seem able to capture either of those behaviors or the snake like way they move. Even if my pictures don't do them justice, I wouldn't leave you guys hanging like that. Here are some that I've taken over the past few months I've had this colony.
In the top part of this picture you can see a worker carrying around one of her deceased sister's head. I swear she carried it around for a week before finally putting it down so I could remove it.
This is a picture includes what I think is a spring tail. It was tiny, but it jumped really high. I never did get to see them kill or eat it. It was in there for a day or two and then just disappeared.
This headless termite was still twitching when they found it. I had hoped to catch them mid-sting, but they never did sting it.
This is a picture of the newest addition to the colony. It is the first callow I've seen.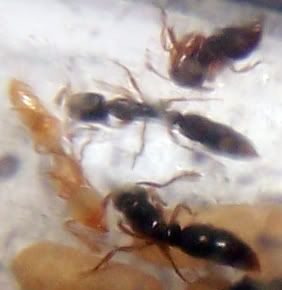 Here is another picture of callow and most of their current pupa. These last two pictures aren't that great because of the condensation and sand on the inside of the tube.