Wednesday I collected a huge
Camponotus pennsylvanicus
colony from a dead tree my dad cut down. It was the largest colony we've ever found while cutting wood. There were thousands of ants in it, possible even 10,000. We did manage to find the queen by shear luck. The queen's chamber was only a few inches from where my dad made the cut to drop the tree. On top of that we some how managed to split the wood (this tree was dead, but far from rotten) so that only a small fraction of her chamber was removed. Of course we had no clue where her chamber was, if it was even in the tree while we were splitting the wood. Another good example why I always say there is fair amount of luck involved in collecting a mature colony.
Long story short I now have a
C. pennsylvanicus
colony with 1,000 - 2,000 workers and about 10 males. I had also collected around 200 female alates (I told my dad not to pick them up but he didn't listen). I've removed them from them colony, but I've not frozen them yet. I figure the colony will recover from its ordeal quicker if it doesn't have to support a few hundred virgin queens all winter. I would have removed the males too, but there were only ten and I don't think they feed the males nearly as much as they feed the queens.
I also managed to collect a fair number of other bugs with the colony. They ants made short work of the wood roaches, but they couldn't do much to the pill bugs and beetles. I did also see a few small spiders fall into the collection bin, but I didn't find any trace of them while I was moving the workers to a clean bin. So far the only note worthy non-ant insect I found were the eastern ant crickets (
Myrmecophilus Pergandei
) that were living with this colony. They sound harmless, but I created
this topic
in the anting section in hopes to get some expert confirmation of that. So I would wait/read that topic before you run out and get some for your ants. I managed to get most of them separated from the colony before I knew what they were, but it wasn't an easy task and I couldn't get them all. There were also some bugs that looked almost like tail-less scorpions in amongst the all the junk that got collected with the ants. I've not gotten pictures of them yet, but I kept a few so I can take some picture eventually.
Now that I've separated the ants from all the other junk they were collected with, all I have to do is figure out where I'm going to put such a large colony. The EVOO (extra virgin olive oil) along with the bin's lid seem to be doing a good job at preventing any escapees, but their current bin isn't a good long-term solution. I'm going to stop short of promising this will be journal. There is a chance I might not keep them, but I hope it doesn't come to that.
Now for the fun part, here are some pictures I took while moving the ants. Sorry I don't have any from while we collecting them since I was too busy catching ants to take pictures.
I hope these first two pictures can give you a decent feeling of how many ants there are in that bin.
One of the smaller piles of ants.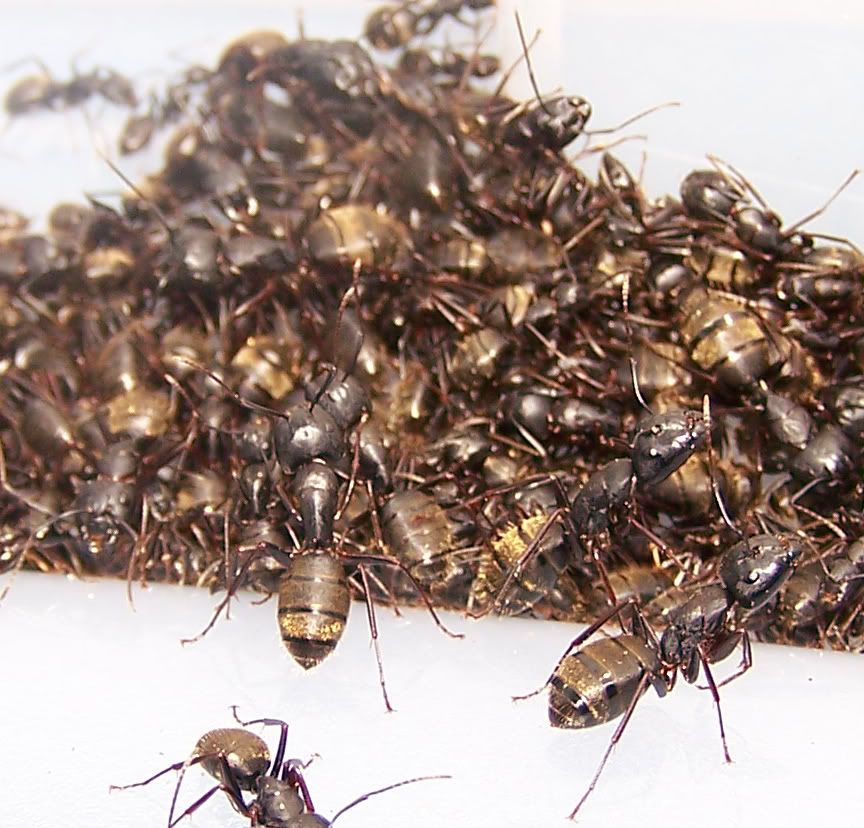 I had hoped they'd use this as a food dish, but it seems they had other ideas.
Not the best picture, but the only one I have of the queen. She is currently at the bottom of a pile somewhere in the bin.
Again not the best picture, but it's the only one I got with any brood in it. (I was excited to see this one because it appears some of their brood did survive.)
Here are some pictures with the crickets in them.
Here's a few pictures of the female alates I removed.
Here are a few random pictures of workers I took.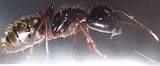 I thought it would be fun to share a picture of my finger that split last night. I had noticed it felt funny a little bit before it split. Apparently it had blister on the end of it. I'm assuming the blister had something to do with all formic acid and ant bites it received in the past few days. If you are wondering why I didn't use my aspirator, I can now tell you first hand that
Camponotus
do spray formic acid and lots of it. I can attest to the fact that it doesn't taste good and I found it was too much for me to take when I had anything more then a few minors in my aspirator. So I was forced to use some paper and my hands to move the ants out of the collection bin.