Recently I lost that Crematogaster cerasi queen I found last summer in June. She produced a normal colony and seemed to be doing fine through hibernation. This summer they started losing workers a little faster than they could be replaced. Unsure what else to do I tried decreasing the humidity in their nest since they seemed to prefer the drier portions of it. At first I thought I had it figured out since the queen did seem to pick up her egg production a little, but the increase was short lived.
A few weeks ago it suddenly dawned on me that all the dead workers I was removing from the colony were all moldy and I began to wonder if the mold may have been the problem all a long. I began keeping a close eye on them and removed any dead or dieing workers as soon as I noticed them. Long story short this weekend I lost the queen. I noticed her standing in a strange position and when I gave her a gentle nudge with a tooth pick she didn't really respond. I removed her and transferred her to a jar with a damp paper towel in the bottom. She was still alive at this point, but seemed to be unable to properly move her front legs or head. She was basically in the same pose she died in and seemed either very unwilling or unable to assume another pose. Of course when I check on her the next day she was dead. She did leave behind a small brood pile and three workers, so the thought of introducing them the C. cerasi queen I collected last month crossed my mind. I decided I would wait before introducing the orphaned workers until after I left the dead queen in the jar to see if she would mold like most of the dead workers.
Sure enough I took pictures of her the next night and she had started to sprout mold. The mold didn't have the same funny look as the mold on the dead workers, so I thought I'd leave her in the jar for a few more days. I haven't been able to check on her the past few days, but tonight I had a chance. Sure enough the mold covering her looks exactly like the mold on the dead workers I've been removing all summer long. I decided after I noticed the mold growing on her Monday that it was best to place her surviving workers and brood in the freezer.
Now that I've given you guys a brief history, I figure it's time for my questions. My first question is how likely was it that the mold killed this queen and/or her workers? I've included pictures of her. The first two pictures are from roughly 24 hours after her death, the last two pictures were taken earlier tonight (about 3 days after the first pictures or 4 days after her death).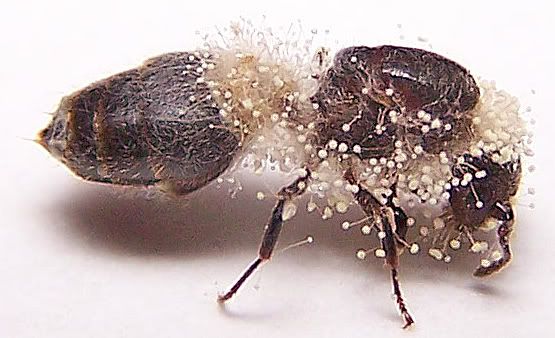 My second question is if this mold is the killer, what are the odds it's going to turn up in my other captive colonies? And what do I need to do to prevent this mold from showing up in any of my other captive colonies? My last question is of course where did this stuff come from? I always bake my sand before I use it and always freeze the insects I feed my ants for at least 24 hours. (Most of the time the insects I feed my colonies are in our chest freezer a lot longer than 24 hours, usually several weeks or longer.)