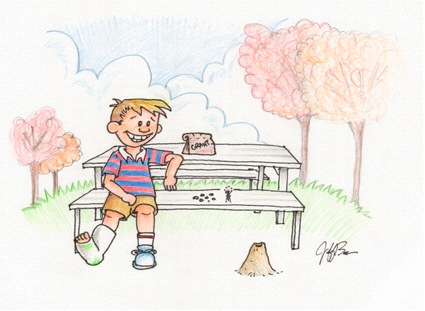 Notes:
1. Focus on the image(s), not the texts and watermarks (if any). If it is a screen capture from a television/TV show, movie, game, etc., then make your own caption.
2. Use
SayWhat
to add dialog bubbles and texts to
http://www.bewilderingstories.com/issue233/ant2.jpg
...
3. You can do silly doctoring and captioning like
I CAN HAS CHEEZ BURGER
and
LOLcat.net
for it/them. Use
roflbot
is recommended for this case.
4. Ignore the technical errors like missing legs, antennae, etc. if any.
Ant's Cheesy Caption: Here is a shot of your young, injured overlord in elementary school to feed Argentine ants. They even performed jugglings for him, during lunch hour in the fall/autumn.