This is a journal on some experiments on founding with queens from the
Formica rufa
group.
Formica rufa
is founding parasitic, and need some kind of host. Unless of course they find their way back to the nest they came from, in which case they will be welcomed back, as
Formica rufa
can have hundreds of queens in big nests . I've used Formica fusca as host with success earlier on, but last week I read a paper on
Formica rufa
, stating that the queens were known to also sometimes found new colonies by the help of a group of
rufa
workers. This could be a "stray" group of workers or a small colony without queens, or it could be by budding from the mother colony.
I had collected a few queens from the
Formica rufa
group, and decided to test, if they could found a colony with help from an unrelated group of
Formica rufa
workers. I collected about 30 workers from a randomly chosen
rufa
type colony, not even close to the place where the queen was found. As we have literally hundreds of big Formica
rufa
type nests around in the woods in my area, the chance that queen and workers should be related are very remote! Chances are, that they might even be a different species, but I haven't had them ID'et yet, so I don't know for sure. Here are some shots of these queens - they are quite aggressive!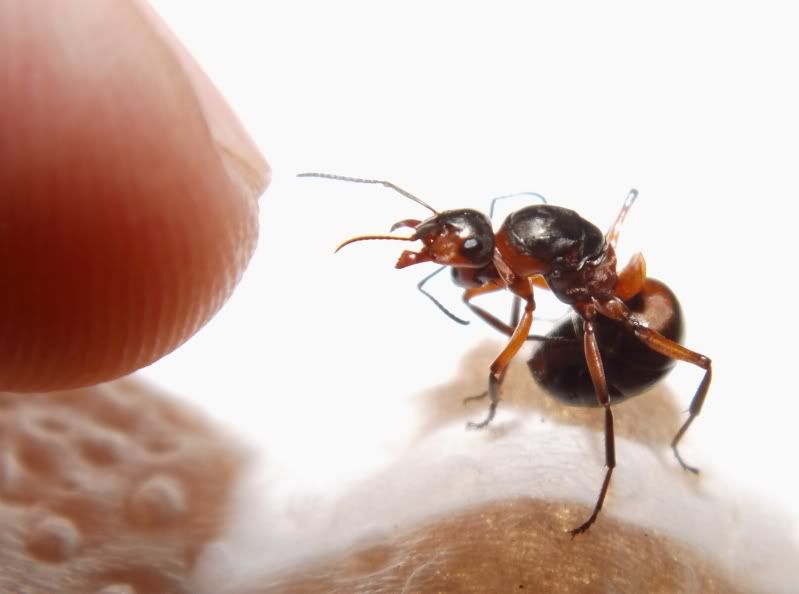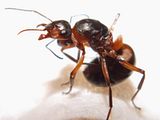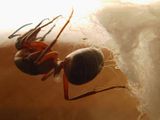 While remembering it, I have to note, that the
rufa
queens seem to die on me. I'd say, that perhaps only 25% of them live for more than a few days. They are treated well, so handling cannot be the issue – I think. Read
this thread about dying queens
, and please share any thoughts or knowledge you might have in that regard.
Anyway, I placed the 30 workers in a small tub and chilled them in the freezer for a minute or so. I used an open chest freezer, and took them out as soon as movement ceased. Then I dumped the queen in with the workers, and gave them a good but gentle shake. This was of course in order to let the queen get some of the scent from the workers in order to ease the introduction. It seemed to work quite well. No bullying as far as I saw, but on the other hand no grooming and trophallaxis either. I put them in the fridge for the rest of the day to get acquainted with each other (and I did remember to move them out of to fridge again before my wife returned from work). I left them in the garage on top of some boxes for the night.
Next morning, the tub was gone… That puzzled med quite a bit, but then I saw a similar tub lying on the floor – empty. I also noticed that some of my son's clothes were hung out to dry. Bummer. He admitted to the offence, and I think I am proud to say, that I managed to stay calm. But this experiment was definitively over. I found a couple of ants around in the garage, but no queen.
To conclude on the results of this experiment: A
rufa
group queen can survive at least eight hours in a group of 30 foreign workers.