I'm wondering if anyone can help me to identify this ant. It's all over our house (Indianapolis) and we're just not sure how big of a potential problem it could be. The size is 3-4mm and they're mostly black with no other obvious characteristics - at least to an untrained eye. (One of the pictures I took seemed to show a little red on the thorax, but I think it may have been artifactual.)
I'm trying to put a picture with this post, but I'm not sure I've totally figured out how yet. I'll give it a shot and if it doesn't work I'll try again.
Thanks so much to all of you.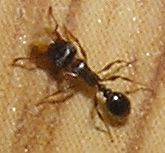 [fixed the broken image] --antdude