(NY Aug '03)
The summer anting season is turning into fall, and I decided a few weeks ago that my final expedition of the season should be a nostalgic one. After all, my previous trip was to
Arizona
of all places, and it isn't like I could top that one for good anting.
So I headed back east to spend a few days at my parent's summer home ("The Stonehouse") in the hills of western New York state. This is the piece of land that I grew up on during the summers, running around the woods looking for frogs, ants, and other crawlies:

(That's me, at age 9, on the right, anting with a friend. Yes, my mom used to cut my hair, and the only style she knew was bowl cuts...)
I've been into ants for a long time, obviously, and I was a bit embarrassed to find this little gem I wrote two decades ago tucked into a photo album: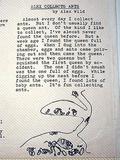 I'd like to think my writing has improved since then. And, it now occurs to me that the kind of ants that I "liked to collect" were the ubiquitous
Lasius flavus
. I still remember the fat, physogastric queen.
The scenery:

(dusk overlooking Canandaigua Lake, from the front porch)
The habitat is a mix of mature red oak forest, meadow, and second growth maple forest. There is a lot less meadow now than before, and the forests have grown up considerably, although my father has been working hard to keep the view in front of the house open.
I have only visited the Stonehouse during winter in recent years, as part of my Christmas vacation home to the parents. Mid-winter is not prime anting time, though, and I have been waiting years to go back and revisit the place in the warmer months. What were all those ants that I spent so many hours observing as a kid?
Well, here's the list:
Ponera pennsylvanica
Amblyopone pallipes
Aphaenogaster fulva/rudis/
whatever complex spp.

Crematogaster cerasi
Crematogaster lineolata
Leptothorax longispinosus
Myrmecina americana
Myrmica americana
Myrmica latifrons
Myrmica punctiventris
Myrmica
sp. nr.
spatulata
Stenamma diecki
Stenamma schmitti
Tapinoma sessile
Acanthomyops claviger
Brachymyrmex depilis
Camponotus noveboracensis
Camponotus pennsylvanicus
Formica exsectoides
Formica fusca
Formica lasioides
Formica neogagates
Formica nitidiventris
Formica obscuriventris
Formica pergandei
Formica subintegra
Formica subsericea
Lasius alienus
Lasius flavus
Lasius nearcticus
Lasius neoniger
Lasius umbratus
Prenolepis imparis
32 species in total. Actually, I remember seeing a
Polyergus
raid there once, so better to make it 33. Sadly, no
Polyergus
this time.
I can't post all of my photos here, but here are a few. It had never occurred to me as a kid to look for ants in acorns, so now that I know better I had some luck with
Leptothorax
:
And my favorite ant species from age 9,
Lasius flavus
:

Formica exsectoides
, the Allegheny mound ant:

These guys where downright nasty, when I peeled back the bark on a rotting birch log and uncovered
Crematogaster cerasi
:

The ants I remember having the most luck with finding queens, graceful woodland
Aphaenogaster
:

more photos up here:
myrmecos.net
Other highlights- I witnessed a raid of
Formica subintegra
, the first time I've ever seen that species raiding. Their behavior was very much like
Polyergus
, I was surprised. Their raid was in the late afternoon, and purposeful in appearance, thousands of ants running in a beeline to a nest of
Formica subsericea
.
The other
sanguinea
group species,
F. pergandei
, enslaved just about everything. I caught
nitidiventris, fusca, lasioides, neogagates
, and
subsericea
in
pergandei
nests. This species also appears to have multiple dealate queens in some nests.
Amblyopone pallipes
was under every other rock in the forested areas, or so it seems:

Some of the nest chambers held pieces of the geophilomorph centipedes on which they are specialized predators. Also, queens and males were present in many nests.
All in all, a fantastic few days.
[removed (NY Aug '03) since this is basically a general anting during youth days] --antdude